Ook voor dit  jaar heeft Niantic een aprilgrap in petto voor Pokémon GO. Wanneer spelers de GO Snapshot-functie gebruiken en de genomen foto is een fotobom zal niet  Smeargle voor de foto komen maar Ash Ketchum met zijn klassieke pet of Pikachu met Pet!
Pikachu met pet
Ach Ketchum met pet
Elke fotobom met Ash of Pikachu met pet zal ervoor zorgen dat een Pikachu met pet gaat spawnen!
Zowel Shiny als de gewone Pikachu met pet is mogelijk plus het is nu tijdelijk tot 5x per dag ipv 1x.
Hoelang dit gaat duren is niet niet beeknd maar we vermoeden zoals vorig jaar 7 dagen!
Pikachu met pet
Shiny Pikachu met pet
Aprilgrap 2018
In 2018 had Niantic 8-bit Pixel icoontjes in Pokémon GO, sommige spelers vonden de oude retro graphics leuk en andere weer niet.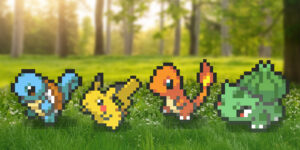 Mis geen nieuws meer over Pokémon GO en wordt lid van onze
Facebook Groep
of
Telegram
.
---